Location: Rathmines Dublin 6
Time: 1 pm - 4 pm
Contact College
The next Rathmines College Open Day is:
Wednesday, 10th May – 1.00 – 4.00 p.m.
All Open Days will take place in our Town Hall building in the heart of Rathmines, Dublin 6.  Students will get the opportunity to chat directly with course directors and teachers about the 30 plus QQI Level 4, 5 & 6 further education courses, Professional Accountancy and Repeat Leaving Cert on offer in the college.
Rathmines College offers excellent education and career progression routes and our guidance counsellors and employment engagement officer will be on hand to talk through progression opportunities, QQI Level 6 courses, universities or career options. By dropping into Rathmines College on one of our Open Days students will get a great feel for what studying in our vibrant college is like.
All Open Day information and details will be posted on the Rathmines College website www.rathminescollege.ie and through the busy college social media channels, Facebook, Twitter and Instagram.
How would your students benefit from studying at Rathmines College?
Education Progression Routes – We have strong and well-established progression routes from all our courses to Higher Education degree courses.
Career Opportunities – Excellent employment opportunities, especially for graduates of our Professional Accountancy and Office Administration courses
Low Registration Fees & Grants – QQI and Professional Accountancy course fees are only €200. Rathmines College of Further Education courses are all state funded, so minimum charges apply. SUSI grants, Back to Education Allowance (BTEA) and the Vocational Training and Opportunities Scheme (VTOS) are available for qualifying students.
Great Location – A vibrant and mature learning environment in the heart of Rathmines, close to the city centre, with excellent transport links.
Teaching Experience – A highly qualified, committed, and caring teaching staff.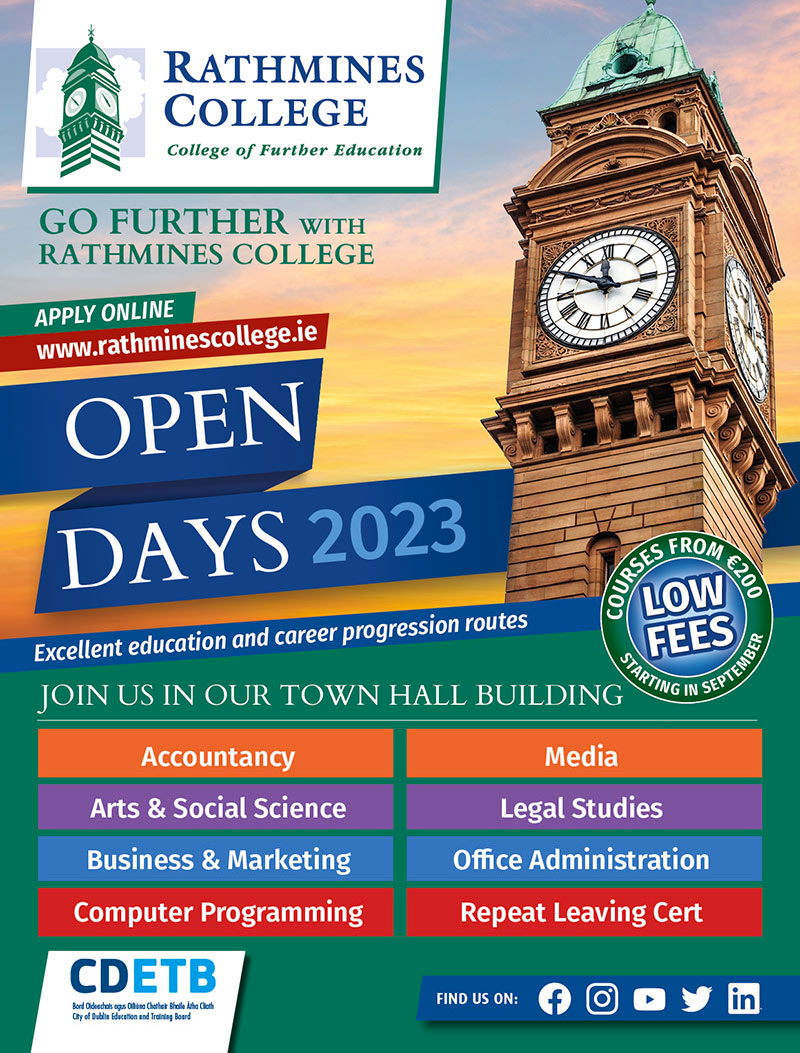 View more events on Findacourse.ie