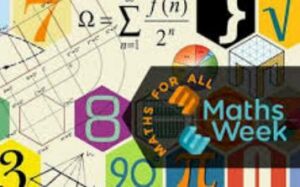 Time: 14th Oct - 23rd Oct
Maths Week Ireland is an initiative to promote Maths via activities and active participation. The initiative is run in partnership with over 50 organisations dedicated to promoting and celebrating mathematics across the island of Ireland, including universities, institutes of technology, colleges, museums, libraries, visitor centres, and other professional bodies. Maths Week Ireland is supported by the Departments of Education both north and south on the island of Ireland.
Events are run by the participating schools and colleges with materials delivered online by Maths Week Ireland. Most schools run their own range of activities. Maths Week is a nine-day event (Saturday to Sunday of the following weekend, inclusive) which always includes the 16th of October, the day in 1843 when William R. Hamilton discovered quaternions.
For more details view Mathsweek website at mathsweek.ie
View more events on Findacourse.ie