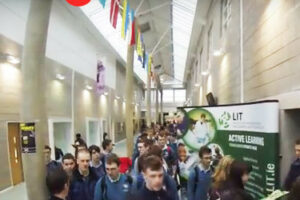 Location: Moylish Park, Limerick
The Faculty of Applied Science, Engineering and Technology at LIT hold their Engineering Week in December of every Year. This engineering initiative is exclusively for students who are;
1) Undertaking Engineering as a final year subject in the Leaving Certificate
2) Interested in Engineering as a future career​​
Set over 5 days, the students come to LIT for one day and the purpose of the visit is twofold, firstly they attend a seminar on a prescribed specialised topic from the Leaving Certificate, and secondly, they are introduced to the engineering disciplines within the school by way of workshops.
The visit to LIT informs students and assist them in their decision when it comes to making their CAO application. Up to 600 students book in for the week averaging 100 to 120 per day.
They represent 25 schools from Limerick, Clare, Tipperary, Cork, Kerry, Offaly, Mayo and Galway. The following is an overview of what is involved in these visits:
1) A presentation on the Leaving Certificate Engineering Prescribed Specialised Topic (Basic principles of operation and applications of fuel injection systems in petrolpowered cars).
2) Course Information Stands.
3) Workshop tours covering most Engineering courses at this Institute, to include:
Solid Works/ CAD CAM
Material Analysis and Engineering Technology
Automobile Engineering
Renewable Energy
Operation of fuel injected systems to support specialized topic on fuel injection in petrol‐powered cars.
Automation and Robotic Engineering
Electronic Engineering
Welding
Booking is required to access workshops & events throughout the week – Telephone 061 293 261 | Email katie.bourke@lit.ie
View more events on Findacourse.ie