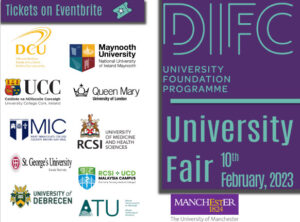 Location: Dublin 8
Time: 2.30 pm - 6 pm
Date and time
Fri, 10 February 2023, 14:30 – 18:00 GMT
Location
DIFC Conference room 8 South Circular Road D08 V04N Dublin 8
DIFC is hosting a University Fair in February 2023!
More than 20 worldwide recognised universities.
If you are thinking about your academic future don't miss it!
You will have the opportunity to speak to the University representatives in person.
Where?
The Fair will take place on Friday, February 10th in the Griffith College Campus, (Conference Room) from 2:30 p.m. to 6:00 p.m.
Tickets available on Eventbrite
difc-university-fair

View more events on Findacourse.ie