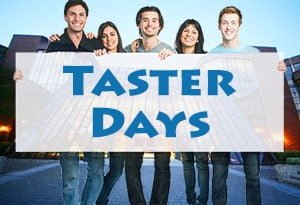 It can be very beneficial to gain some experience either working or studying in a field related to a chosen course of study. Especially if that course is going to take three or four years of work and dedication. This has been made easier with the growth in popularity of 'Taster Days'.
What is a Taster Day?
Taster Days are events held by colleges, whereby the student gains hands-on knowledge and experience of a particular area of study. The students are usually shown the facilities, the type of course material they will be studying and sometimes the work of professionals who have qualified in that area of study. These events can run from one day to several, with longer events usually giving a more comprehensive flavour of the course and career prospects.
How do I find one?
Not all colleges run taster days, but many do and the best way of finding out is simply to give a call to the college you are interested in studying with and ask them if they have any scheduled. It is best to do this well in advance of the course start date as many colleges run these many months before the course begins.
Resources
Some upcoming taster days and events are listed below..
Institute of Art Design and Technology, Dun Laoghaire, Dublin, Taster Day
Running from 31st October to 3rd November this event showcases a range of courses including the following;
Photography
English, Media and Cultural Studies
Creative Media technologies
Applied Psychology
Creative Computing
Entrepreneurship and Management
If you have any queries in relation to the Taster Days, please email [email protected] More information on IADT Webpage.
Physics Transition Week – University College Dublin
Running for 5 days from December 4th to December 8th 2017. Highlights the work of researchers, academics and clinical professionals in this field. For more info, contact Bairbre Fox on 01 7162210 or email [email protected]
Construction Day – Limerick Institute of Technology
LIT is running a one day construction event on 12th December. More info can be obtained from Pat Gill on 061 293000 or [email protected]
Engineers Week
This is a week long schedule of events taking place from the 24th February to the 2nd of March 2018 in venues throughout the country. For more information on these events, visit Engineersweek.ie
Arts taster Days – NUI Galway
Arts Taster Days will be held at NUI Galway on Wednesday 25 April, Thursday 26th April and Friday 27th April 2018.
There are also a wide range of open days taking place, to view some upcoming open days, visit https://www.findacourse.ie/blog/open-days/