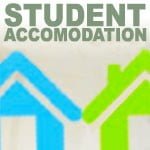 A recent report compiled by property website DAFT.ie has shown that students are facing a massive rise in rental rates this year with the average rent for student accommodation in Dublin rising by 15%. The rest of the country fares little better with an average rise of more than 10% nationwide.
The website's economist, Ronan Lyons has criticised government policies and is encouraging the government to relax the strict housing regulations and reduce the cost of construction for housing developers in order to get more housing and rental properties on the market for those entering the rental sector and seeking student accomodation.
The Union of Students in Ireland (USI) have published a guide for students advising on accommodation and finance during college years. The guide includes tips on finding accommodation, what to look for & avoid when renting, tenancy agreements, budgeting and more, the guide is available free of charge and cab be viewed or  downloaded at the following link – http://www.scribd.com/doc/237116908/USI-Accommodation-Finance-Guide.
Greg O'Donoghue, the USI Vice President for Welfare has expressed sympathy for students seeking accommodation in a highly competitive marketplace but has praised SUSI for a big improvement on the grant system this year with none of the delays so far that plagued last years student grant recipients.
Author: Shane Nicholsan