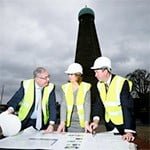 A €40 million development which will provide 500 students with accommodation is to be the latest addition to The Digital Hub in Dublin. The project, facilitated by The Digital Hub Development Agency (DHDA), is one of the biggest since the foundation of The Digital Hub 13 years ago and marks a new and exciting phase for the development.
The Digital Hub is located in the Liberties area of inner Dublin and is the centre for digital enterprises, currently housing approximately 70 digital companies and employing 900 people. Since its establishment, 170 companies have been a part of The Digital Hub.
The new development will be 10,650 square meters and will also include extra office space. It will be situated in Bonham Street. The accommodation is to be constructed by UK company, Knightsbridge Student Housing and will be offered to different universities on a contract basis. Knightsbridge will also refurbish the 19th century Grainstore building on the campus, which is believed to have originally been part of the Marshalsea debtor's prison. Construction is set to begin in May, with the student accommodation completed in September 2016 and the new Grainstore office spaces completed in May 2015.
Speaking to the Irish Times, Edel Flynn, the chief executive of The Digital Hub, said that project is one of the biggest office space developments of recent years in Dublin and is the largest construction project to be happening in Dublin this year. Ms Flynn also said the development showed confidence was returning to the construction industry in the capital.
The project is to create 300 new jobs and the Minster for Communications, Energy and Natural Resources, Pat Rabbitte said it was great news for job creation in the construction sector and for the Liberties area, which is currently run down with a lot of vacant buildings despite it being one of the most visited areas of Dublin due to the Guinness Storehouse. The project is said to require an investment of €3.51 million.
Students from near by colleges and universities such as DIT, the National College of Art and Design, Trinity and UCD will be hoping to benefit from the new accommodation in 2016. Ms. Flynn said that the addition of 500 students to The Digital Hub was a positive move. "There is no better thing than to have students on the doorstep. It adds to the vibrancy and footfall and will support other businesses in the area."
Author: Fiona McBennett