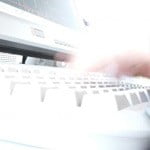 The Minister for State Training and Skills, Ciaran Cannon, has said that Leaving Certificate students should be given the option to use a computer when sitting their exams. Mr. Cannon said that there is no flexibility in the current system, which he feels is doing a disservice to those students who feel more comfortable on a computer.
The junior minister for education is currently developing a five-year strategy on digital learning and teaching and said that while Ireland has developed examination software for overseas markets, he would like to see that being used here as part of the Junior Cycle reform.
Speaking at the recent Excited festival of digital learning in Dublin, hosted by Mr. Cannon, Dr. Aoibheann Gibbons, director of research development in UCD, said that promoting digital learning and then having students write for three hours in an exam was a contradiction. Dr. Gibbons said that writing for that amount of time was not psychologically or physically natural and that it was asking students to think in a linear way which is unlike how they think when using a computer.
A recent study carried out in the UK by BIC stationery company, showed that 39% of students fear that their handwriting will be illegible to examiners. It also showed that students worry about this more than they worry about forgetting information on the day. The study also revealed that two thirds of teachers marking exams have found poor handwriting has prevented them giving marks a student would have deserved had their handwriting been clear.
82% of the teachers surveyed admitted that they were concerned students are losing traditional skills due to an increased reliance on technology. 89% of students said that they use a laptop or computer to revise and 20% said that they use a tablet device. Over half of the students surveyed said they felt that taking notes using a pen and paper was outdated.
Handwriting expert, Margaret White, says that lack of practice can mean problems when it comes to writing on the day of exams. Bad habits such as holding the pen too tightly or leaning to heavily on the paper means that many students complain of aches and pains in their hands and arms after exams.
However, while two thirds of students said that they used laptops for revision, 85% admitted to getting distracted by the internet, with 58% of people citing social media as the biggest distraction.
Mr. Cannon's digital learning strategy will emphasis new technology as well as teacher training and he said that these would require a significant investment which will allow future students a chance to succeed. It remains to be seen if keypads will replace pen and paper during exam time but in future this may be a logical route to take for the tech savvy youths of tomorrow.
Author: Fiona McBennett