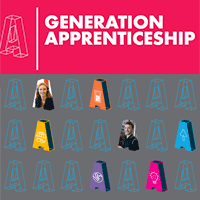 The 2017 Call for Apprenticeship Proposals was launched on 04th May 2017 and closed at 17:00 on Friday 01 September.
Generation Apprenticeship is a major expansion project to more than double the number of learners taking the apprenticeship route.
Proposals will be assessed during October 2017. Assessment will be completed by a subgroup of the Apprenticeship Council, overseen by an independent process auditor.
Following assessment and short-listing of the initial proposals it is planned that the assessment subgroup will engage with the short-listed proposers to gather further details including the developmental and operational funding sought for the apprenticeship.
Where similar proposals are received in the same or similar industry areas, the assessment subgroup may convene the groups involved, including industry representatives, to discuss the proposals and to explore whether the apprenticeship proposals should be configured differently.
The engagement process with the short-listed proposers will be completed before formal approval of proposals for apprenticeship development.
It is intended that the outcome of the process will be communicated to all parties by early November 2017.
Information on current apprenticeships is available on www.apprenticeship.ie
In the case of apprenticeships currently in development, 8 of these have occupational profiles which have been formally approved. These occupational profiles are listed below for reference purposes:
Baker
Butcher
HGV Driver
ICT Associate Professional Network Engineer
ICT Associate Professional Software Developer
IFS Advanced Specialist
OEM Engineer
Telecommunications Field Engineer
For more details on these and other apprenticeship programmes view www.apprenticeship.ie