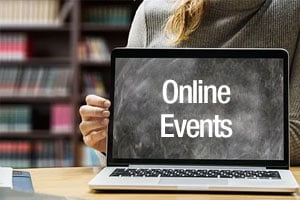 Many colleges are offering the opportunity to find out about courses and get some insights on possible future study locations without having to step outside the front door. Some of these events focus on specific courses whilst others give a broader overview of the college.
Some colleges are also offering opportunities to revise for upcoming exams (whenever they may be) via online revision days. More information on some of these events can be viewed below..
Hibernia College are hosting an online webinar which will take place on Wednesday, 8th April from 5-6pm. This webinar will be a chance for participants to ask questions about the programme and get more information on the Autumn 2020 application.
The Irish College of Humanities and Applied Sciences (ICHAS) are holding an online information session on 6th May which will be held from 6.00 – 7.30pm. If you wish to attend this online information session please contact [email protected] or 061 216288 for your log in link.
IT Sligo is hosting Free Maths Revision Days for Leaving Certificate students to help prepare them for their Ordinary Level Maths Leaving Certificate Examinations. The course will run over 2 days, 14th & 15th of April 2020 online.
Naturopathy.ie are holding a Natural Chef Online Open Event on Wednesday 8th April, you will learn how to make delicious food that offers therapeutic benefits. You will also learn how to turn these skills into a career.
NUI Maynooth are holding their Virtual Open Day on Saturday 25th, April, moredetails on their website – https://www.maynoothuniversity.ie
DKIT in Dundalk have their Virtual Open Day on Wednesday 6th May from 10am to 7pm. This is an ideal way for you to find out more about DkIT, including courses, campus and student services. Q&A sessions will be included where you can ask questions about academic content, fees, how you study and more.
For more information on course providers in Ireland view the Colleges page on Findacourse.ie