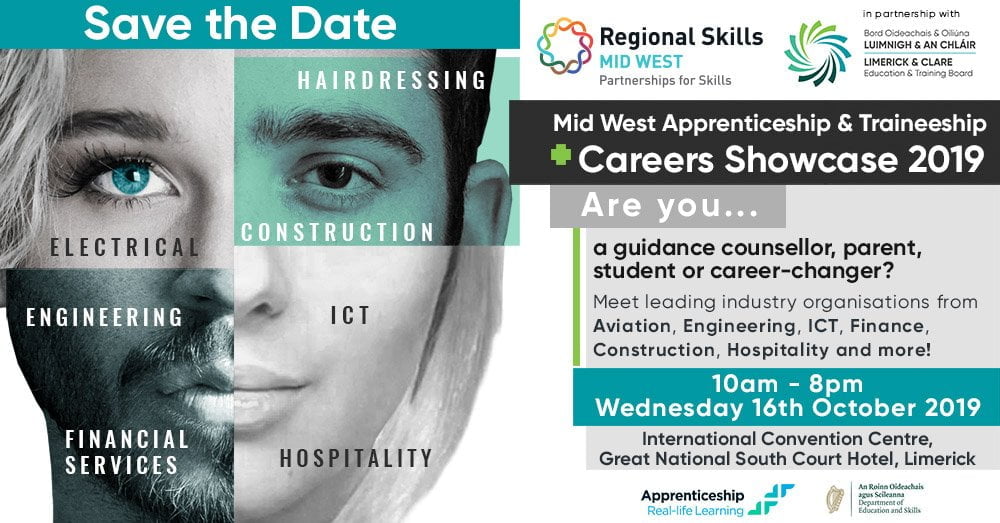 The Mid-West Regional Skills Forum in collaboration with Limerick and Clare Education & Training Board will host it's second Apprenticeship & Traineeship Careers Showcase on Wednesday 16th October in the South Court Convention Centre.
The showcase is an opportunity for those considering a work and learn career pathway to meet with education and training providers together with viewing the range of both craft and non craft apprenticeship programmes. Industry sectors including ICT, Manufacturing, Hospitality, Logistics, Bio Pharma, Accounting and Construction will all be in attendance to help or inform attendees.
This will be an interactive event with multiple apprenticeship and traineeship stands demonstrating the diversity and range of industry career options and job roles in a variety of sectors. Expert instructors, industry professionals, apprentices and trainees will engage with visitors, explaining how to get into their industries, what skills and qualifications can be achieved, the career prospects and mobility options. Keynote knowledgeable, specialist speakers will inform guidance counsellors, students, parents, career changers and those looking to return to the workplace about the expanding range of apprenticeship and traineeship programmes now available.
The event will provide information on further education and training and promote it as a first choice career path, featuring participating industries interactively showcasing "earn as you learn" careers. The aim of the event is to raise awareness of apprenticeship and traineeship career opportunities and pathways as a valid first choice career path for young people and adults.
EVENT OPEN TO THE PUBLIC 10 AM – 8 PM. BOOKING NOT ESSENTIAL FOR GROUPS UNDER 10 PERSONS.
Please contact event organisers with any queries at [email protected].