Quality and Qualifications Ireland (QQI) has recently published details of QQI awards achieved by learners in 2015.
The information shows the popularity of Further Education (including PLC courses) in recent times and analyses details such as age-bands, gender, provider-locations, award types and levels.
The new infographics system in use by QQI is an impressive tool which displays the information in graphic formats which make for easy display and analysis. More can be seen at http://infographics.qqi.ie/
The data published shows that in the previous year;
278,236 learners achieved QQI awards
Over 220,000 achieved minor awards*
Over 37,000 achieved major awards**
Almost 19,000 achieved Special Purpose awards***
*Major awards are the main class of award made at a level, for example the Leaving Certificate, the Advanced Certificate or the Honours Bachelor Degree. There are 16 major awards in the Framework which can be viewed on NFQ.ie.
**Minor awards provide recognition for learners who achieve a range of learning outcomes but not the specific combination of learning outcomes required for a major award. These awards allow learners to build up units of learning at their own pace to meet their own needs.
***Special-purpose awards are made for very specific purposes. An example of a special-purpose award is Driving – Heavy Goods Rigid.
Supplemental awards are for learning which is additional to a previous award. They could, for example, relate to updating and refreshing knowledge or skills, or to continuing professional development.
Some more statistics are outlined below.
Gender
Gender participation was quite equal overall between male and female students, with females edging it at 51%. This varied in different locations (For example Cork had a greater imbalance with 61% female participation) and also varied by field of study (For example Health and Welfare courses had 87% female participation).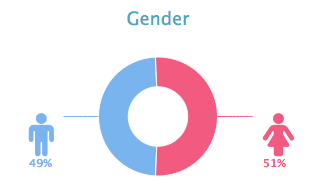 Field Breakdown
The fields of study breakdown show that Services was the most popular field studied in 2015. This was largely swayed by the numbers studying the QQI level 5 minor award in Occupational First Aid. This course is required by many employers and there were over 26,000 awarded in this field of study in 2015. Other popular minor awards included agriculture courses such as Pesticide Application and more generic modules including Communications and Work Experience.
Popular major awards fell mostly in the Health and Welfare field, with the three most popular major awards being Healthcare Support level 5, Early Childhood Care and Education level 5 and Nursing Studies level 5.
Business and Administration was another popular field of study. The numbers here were largely distributed between many minor awards. Most popular of these were QQI level 5 Word Processing, level 3 Computer literacy and level 5 Payroll Manual and Computerised. The most popular Major awards in this field were level 5 Office Administration and Level 5 Business Administration.
Award Numbers
The numbers achieving further education awards in 2015 stood at 278,236. This was a 9% increase on the previous year. It was also the first increase in numbers since 2010 which saw record levels of over 340,000 entering further education, coinciding with the recessionary years post-2008.
Award Type
By far the most popular award level was the Minor award with just under 80% of the total (221,632 awards). Major awards (mostly PLC courses) numbered 37,253 (just over 13%). Special purpose awards numbered 18,888.
Age Group
The 20-24 age group continued to dominate as the most popular age-band achieving further education awards. However it is interesting to note that awards for this age-band dropped 16% from the previous year, whilst awards for the 15-19 age band jumped hugely by 154% from 11,157 awards in 2014 to 28,369 awards in 2015.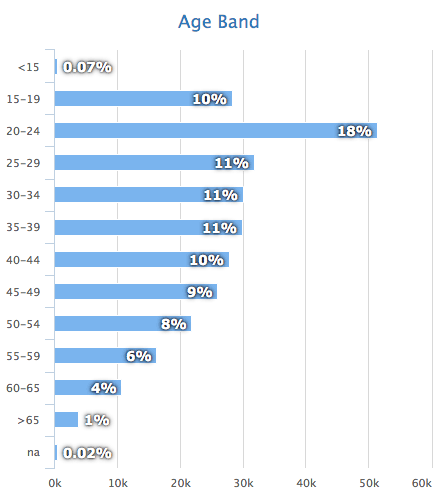 Locations
Unsurprisingly, Dublin City with it's high population ratio, achieved the highest number of further education awards with the numbers coming in at  68,555 awards. Cork City showed 16,271 awards and Limerick city 9,685 awards. The most surprising statistic perhaps was the high number of awards for North Tipperary which showed 11,364 awards for 2015.
Overall the Further Education sector shows healthy numbers. 55,577 students sat their Leaving Cert in 2013, 56,990 in 2014 and 57,929 in 2015.
26,756 PLC students received a QQI Level 5/6 Major award in 2015 so this is a significant portion of third level students entering the Further Education system and successfully completing a PLC course.
Higher Education is of course still the route of choice for most second level graduates with HEA statistics showing 42,264 first year entrants in 2015. This is almost 73% of school leavers entering the hgher education system. However the higher education system also has a higher dropout rate with an Irish Times article showing that one in six students did not progress to second year between 2012 and 2014 and up to 80 per cent of students in maths-related courses failed to progress beyond their first-year in college.
For more information on Further Education statistics view the QQI Infographics and statistics system on QQI.ie. More information on Higher Education can be viewed on the HEA statistics page on http://www.hea.ie/node/1557.
To view Further Education and PLC courses on Findacourse.ie, view our Further Education and PLC Courses Page.