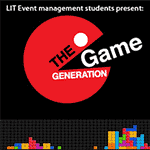 Limerick Institute of Technology are hosting a family friendly IT and gaming event later this month. The technology day has been organised by the colleges event management students in conjunction with Coderdojo and Dell and will take place on March 29th (Good Friday) 12pm to 5pm.
'The Coderdojo Generation Game' will offer something for everyone – vintage games for adults, coding workshops for 7 to 17 year olds and fun games for the under sevens. The Generation Game is a charity event and offers a unique gaming experience incorporating vintage and modern gaming. Introductory coding workshops for children will run during the day as well as seminars for parents on technology awareness. participants will get the chance to meet new and upcoming games designers or just chill out and play some classic consoles and iconic games.
There will be a choice of three coding workshops; Scratch, Arduino and HTML. These aim to develop a general understanding in the basic building blocks for making websites, games and programmes.
Cyber bullying seminars will aim to tackle some of the technology issues parents are faced with, and will bridge the gap for parents and IT.
Tickets for the event are on sale for €5 with family tickets available for €10(includes 4).To find out more about the event and book your workshop visit: http://coderdojomidwest.com