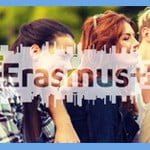 Under the Erasmus Plus Scheme Ireland currently sends over 3,000 students on study and work abroad schemes each year drawn from 35 higher education institutions. In excess of 7,000 students come to Ireland on similar activities each year.
"50,000 students from Ireland have participated in the EU's study and work abroad programme since 1987" according to Higher Education Authority (HEA) Chairman Michael Horgan. Speaking at the launch of the Erasmus Learning Area at the National Botanic Gardens in Dublin Mr. Horgan added "The Erasmus+ programme has played a vital role in improving the cultural awareness and employability of Irish graduates as well greatly facilitating collaborative opportunities between academic and technical staff in this country and their colleagues across the continent of Europe – all essential elements in the internationalisation of higher education in this country."
The new facility at the Gardens provides a horticultural learning space mainly targeted at primary school children and is a joint venture between the Erasmus+ National Agency at the HEA and the Office of Public Works. It was officially opened on Friday 23 September 2016 by Mairéad McGuinness MEP and Vice-President of the European Parliament.
Speaking at the event Ms McGuinness said "The Erasmus+ programme is a great example of European cooperation. Young people have the opportunity to get to know their peers across Europe, making connections that last them a lifetime. As the EU comes under pressure, it is programmes like Erasmus+ that remind us of the value of European integration. And we must work to make sure it is as inclusive in practice as in principle. In that regard, I have worked to ensure that the needs of students with disabilities are addressed when participating in Erasmus+."
Ms Felicity Gaffney of the National Botanic Gardens commented "Having a dedicated space for education in the gardens will help us further develop our education programmes. There is increasing evidence of the disconnect that our young people are experiencing with regards to nature, it is our ambition that with the development of this new garden, we will be able to deliver an expanded education programme which will provide children with a more hands on experience in the gardens and develop a deeper and more meaningful connection with soil and nature."
For more information about Erasmus Plus visit the Erasmus website at http://www.eurireland.ie/
Reproduced under licence from ©Higher Education Authority