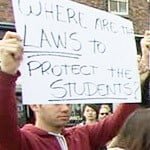 With the closure of Allied Irish College in Cork, it became the fifth English language school to cease trading in six weeks. The college had sixty students registered and had only been open two months before its shock closure. The Minister for Education, Ruairí Quinn has said that another two schools may also close soon.
The closures of English language schools, which mainly cater for international students requiring visas, have been as a result of a crackdown by education authorities and the government to improve regulations. Mr. Quinn said that the aim of the crackdown was to create a 'quality education mark' so that foreign students could be assured of the standard of these private schools.
Mr. Quinn said the problem was that the colleges attracted people outside of the European Economic Area who got visas allowing them to live in Ireland as a student as a result of attending the college but also had work opportunities. Speaking about the closures he said that there was clear evidence that the schools had been a "front to provide access to the labour market".
Allied Irish College in Cork, the first college outside of Dublin to close, is believed to have been connected with Millennium College in Dublin, which shut down unexpectedly a week previously. Several students had transferred from Dublin to Cork after the closure. Three other English language schools in Dublin have also closed.
Hundreds of students have been affected by the closures, claiming that they have lost thousands of euros worth of fees. Many students arrived at Allied Irish Cork the morning of the closure, only to find the school had closed and the doors were shut. The Irish Council for International Students has been assisting the students by arranging support and information meetings for them. Director of ICOS, Sheila Power has said that the sudden closure of the colleges had shone a light on problems that had been known for many years.
Mr. Quinn said he and Justice Minister, Frances Fitzgerald, have brought the matter to Cabinet and will now work on reforming the sector. He has said that a joint taskforce has been created and will meet to establish the number of students affected and to examine if alternative places can be found for them.
Author: Fiona McBennett