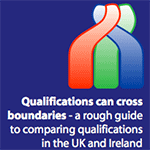 Thinking of studying in the UK? While qualifications are different in every country, there are still some clear stages that people progress through in education, training and work that are common internationally. Primary education, followed by secondary education and then by either employment or further training/education is the basic model common to most countries.
The awarding bodies and qualifications authorities in Ireland and the UK cross referenced their qualifications frameworks in 2005 and published a rough guide titled 'Qualifications can cross boundaries' which enables comparisons to be made between qualifications and their levels in Ireland, England, Scotland, Northern Ireland and Wales.
When considering studying or working in the UK it is important to keep the following questions in mind:
– What is the name of the qualification that most closely matches mine?
– Will my qualification lead to employment or a place in college?
– Will my current qualification be recognised?
– What kind of course/job can I apply for with my current qualification?
This guide, which is available on the National Framework of Qualification's website (www.nfq.ie) as well the National Qualifications Authority of Ireland' s website (www.nqai.ie), addresses these questions by breaking down education and employment into ten main stages. The Irish equivalent being:
1. Level 1 Certificate
2. Level 2 Certificate
3. Junior Certificate (level 3)
4. Leaving Certificate (level 4/5)
5. Level 5 Certificate
6. Advanced certificate, Higher certificate
7. Ordinary Bachelor Degree
8. Honours Bachelor Degree
9. Master's Degree, Post-Graduate Diploma
10. Doctoral Degree, Higher Doctorate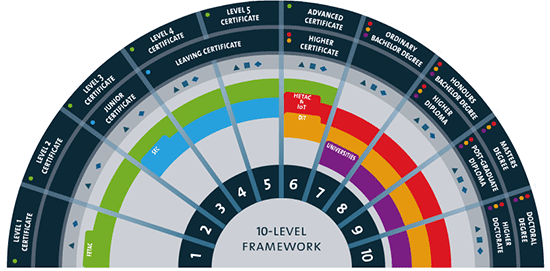 Each stage is compared against those of the various parts of the UK in a clearly laid out table that allows students to compare qualifications across national boundaries.
For more details on the qualifications in the UK visit the following websites:
– The Scottish Credit and Qualifications Framework: www.scfq.org.uk
– National Qualifications Framework for England, Wales and Northern Ireland:
www.qca.org.uk/qualifications
www.wales.gov.uk
www.ccea.org.uk
www.qca.org.uk/open equals
– Credit and Qualification Framework for Wales: www.cqfw.net
– Framework for higher education qualifications in England, Northern Ireland and Wales: www.qaa.ac.uk/academicinfrastructure/fheq
Author: Fiona McBennett