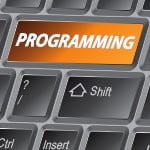 The introduction of computer programming in Irish schools has taken a step forward with the release for consultation of a draft short course in programming and coding, developed by the National Council for Curriculum and Assessment (NCCA) in collaboration with Lero, the Irish Software Engineering Research Centre.
The draft course is now available for public consultation on the NCCA website at http://www.juniorcycle/consultations. Feedback and comment is welcomed by both Lero and the NCCA during the consultation until the end of November 2013.The aim is that the course will eventually be introduced for first year students in 2014.
The development of the course to date has included commissioned work by Lero, input from teachers, lecturers and industry practitioners. "We believe that it is a major breakthrough that the core components of computer science are coming to Irish classrooms in the form of a short course," said Clare McInerney, Education and Outreach Officer in Lero. "Its introduction will allow more and more schools to provide an exciting and engaging computing experience to their students and inspire the next generation of software engineers."
"Because of the lack of a computer programming course in schools, many students are unprepared when they take computing at third level resulting in high drop out rates. This is acting as a block to the supply of much needed computer graduates," added Professor Mike Hinchey, director, Lero.
Mr Sean Sherlock TD, Minister for Research and Innovation, welcomed the consultation of the junior cycle short course in programming/coding. "Enhancing the awareness and knowledge of computing at junior cycle in our post-primary schools is a brand new endeavour in the Irish education system," said the Minister. "We are looking forward to seeing students and teachers embarking on this innovative computing journey in schools which will better prepare our children for the jobs of today and tomorrow."
Lero (www.lero.ie) brings together researchers in the University of Limerick, Trinity College Dublin, University College Dublin, Dublin City University, NUI Galway, and Dundalk Institute of Technology and is funded by Science Foundation Ireland and other Irish and international agencies.