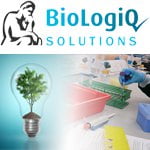 BioLogiq is an Irish-based company that provides expert, up-to-the-minute and customised training courses that are both comprehensive and practical.
BioLogiq are the first and only carbon-balanced consultancy in Ireland, providing public and in-house courses to individuals, public and private sectors in the following subject areas:
• Environmental
• Health and safety
• Auditing
• Management systems
• Quality management
• Laboratory management
• Energy management
• Carbon management
• Social responsibility
• Sustainability.
BioLogic is the only IEMA-approved training provider (in Ireland) for the new Greener Job courses which are specifically for non-environmental people who need to skill up and who need help to efficiently implement and maximize the benefits of a proper environmental management system. Many quality and OHS (Occupational Health & Safety) people are now being given the environmental role and the BiologiQ suite of courses meets this need.
BioLogiq have a fundamental commitment to the quality of our work, so guaranteeing the successful promotion of quality, safety, sustainability and profitability in all aspects of your business. To find out more, view course and college details at https://www.findacourse.ie/colleges/biologiq-solutions/