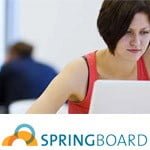 Another 6,000 free part-time higher education places are being made available to provide re-training opportunities for jobseekers. The third Springboard allocation was announced on 21st June by the Minister for Education and Skills, Ruairí Quinn T.D.
Over 200 Springboard courses will be provided at 38 Institutes of Technology, Universities and privately-run higher education colleges across Ireland for individuals to acquire new skills that are in demand in the economy.
The courses will focus on growth areas such as Information Technology, Communication, International Languages and International Financial Services.  Programmes will also be available to acquire qualifications in areas such as Six Sigma, international selling, business start-up and entrepreneurship skills.
The 6,000 places now on offer represent a €23 million investment by the Department of Education and Skills to equip jobseekers with new skills in sectors with good employment prospects. Courses are free, part-time, and are at certificate, degree and postgraduate level. Applications can now be made on www.springboardcourses.ie
Announcing the 6,000 free places, Minister Quinn said: "Springboard is providing a dynamic pipeline of job-ready graduates, with up-to-the-minute skills and valuable qualifications for sectors of the Irish economy that are expanding and recruiting.  This practical initiative, which is part of the Government's Action Plan for Jobs, is tailored to labour-market needs and designed to stimulate economic growth. "
Over 2,000 job-seekers have successfully returned to work in the past year on completion of a Springboard course. Afurther 3,000 will complete courses this month and are preparing to return to the jobs market with qualifications tailored to high-growth industries.
Springboard's partnership with an expert panel, that identifies the expertise required in the economy as well as guidance on course content, is key to this programme's success.
In the third year of the Springboard programme, there is a greater focus on delivering the skills required by growing industries through the content and design of the courses being offered to jobseekers. Over 80 per cent of courses will also offer a work placement for participants.
Chairman of the Higher Education Authority (HEA) John Hennessy, said that Springboard is more than an education initiative; it is driving a culture change within the system.
"The Springboard approach is transforming how we prepare people for the jobs market. Instead of education administrators designing courses in the hope that they make people employable, we start with industry needs. Courses offer the skills-set employers need from graduates, in conjunction with educators", said Mr Hennessy.
Springboard is managed by the HEA on behalf of the Department. It works in an integrated way with the other strands of the Government's industry focused skills initiatives (Springboard, Momentum, ICT conversion, Skillnets, JobBridge) that come under the Skills Plus umbrella. .
A Freephone Guidance line 1800 303 523 is available to offer advice on course choices and applications.