Festina Lente - Personal Development courses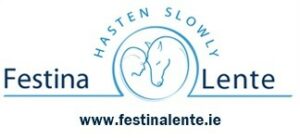 The Equine Assisted Learning Facilitator Training Programme is a one year course from April to […]
This is a three year HSE funded rehabilitative training programme which aims to provide trainees […]
About Festina Lente
Festina Lente provides a range of equestrian, horticultural and community based learning, leisure, training, recreational and employment services. All activities conform either to the standards for Adult Day Services and prevocational training as set out by the Health Services Executive, Social Enterprises as set out by the Department of Social Protection, Vocational Training as set out by the Department of Education and Skills and Equestrian Centre management as set out by and Association of Irish Riding Establishment and activities relating to all other relevant and statutory requirements.
Other Courses in Personal Development Category
Professional development courses from Pitman Training are aimed at those who wish to improve interpersonal skills and work more efficiently. Some of the courses offered are listed below.. Time Management Working with Assertiveness (one-day seminar) Effective Business Communication Working with Stress Presentation Skills
This website uses cookies to improve service and provide tailored ads. By continuing to browse the site you are agreeing to the use of these cookies. Accept Cookie Policy
Privacy Overview
This website uses cookies to improve your experience while you navigate through the website. Out of these, the cookies that are categorized as necessary are stored on your browser as they are essential for the working of basic functionalities of the website. We also use third-party cookies that help us analyze and understand how you use this website. These cookies will be stored in your browser only with your consent. You also have the option to opt-out of these cookies. But opting out of some of these cookies may affect your browsing experience.
Necessary cookies are absolutely essential for the website to function properly. This category only includes cookies that ensures basic functionalities and security features of the website. These cookies do not store any personal information.
Any cookies that may not be particularly necessary for the website to function and is used specifically to collect user personal data via analytics, ads, other embedded contents are termed as non-necessary cookies. It is mandatory to procure user consent prior to running these cookies on your website.