Barony Training

Adobe says "Adobe Dreamweaver empowers designers and developers to build standards-basedwebsites with confidence. Develop pages […]
Adobe says "Photoshop software delivers state-of-the-art imaging magic, exciting new creative options, and blazingly fast […]
Adobe Illustrator is the industry-standard application for producing illustrations and vector graphics. Vectors can be […]
Course Aims This course is for anyone who wants to learn how to develop a […]
As Thomas Beecham the head of the famous Beecham's Powders company once said andlsquo;the trouble […]
Our Sales Management Essentials course is designed to help you to get better results from […]
Being able to use spreadsheets can make your life so easy in performaing everyday calculations […]
Adobe says "Flash software is the industry standard for interactive authoring and delivery ofimmersive experiences […]
IT skills are not just for IT people and geeky types. Many middle and senior […]
ABOUT THE eBAY ONLINE COURSE: Learn The Complete System For Building Your Own Successful eCommerce […]
WHAT IS THE COUSE ABOUT? Why Are You Not On Google My Business? With Google […]
WHAT IS THIS COURSE ALL ABOUT ? The coronavirus pandemic has led to a significant […]
WHAT IS THIS COURSE ALL ABOUT ? This course helps you to improve your marketing […]
TWITTER MARKETING Course Content: Section (1) Introduction To Twitter Section (2) Turn Your Twitter Account […]
COURSE OVERVIEW: This is a 7-part, step by step video course to show you to […]
WHAT IS THIS COURSE ABOUT ? Still struggling to reach out easily to tons of […]
Contact Details
Address:
Unit 9 , Abbey Business Centre
Abbey Street, Kilkenny

About Barony Training
Barony Training is a corporate training firm.
Barony is a dynamic independent consultancy and training provider, which has been working with organisations throughout Ireland, the UK and in over 30 countries internationally since 1991.
Images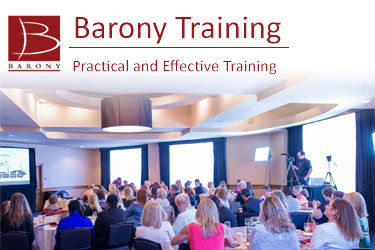 This website uses cookies to improve service and provide tailored ads. By continuing to browse the site you are agreeing to the use of these cookies. Accept Cookie Policy
Privacy Overview
This website uses cookies to improve your experience while you navigate through the website. Out of these, the cookies that are categorized as necessary are stored on your browser as they are essential for the working of basic functionalities of the website. We also use third-party cookies that help us analyze and understand how you use this website. These cookies will be stored in your browser only with your consent. You also have the option to opt-out of these cookies. But opting out of some of these cookies may affect your browsing experience.
Necessary cookies are absolutely essential for the website to function properly. This category only includes cookies that ensures basic functionalities and security features of the website. These cookies do not store any personal information.
Any cookies that may not be particularly necessary for the website to function and is used specifically to collect user personal data via analytics, ads, other embedded contents are termed as non-necessary cookies. It is mandatory to procure user consent prior to running these cookies on your website.