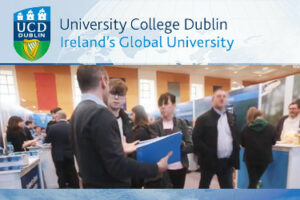 Location: Belfield, Dublin 4
Time: 4.30 pm - 7 pm
Find out about your options for postgraduate study in UCD at the next UCD Graduate Open Evening on Wednesday 20th February 2019.
This will be an excellent opportunity to talk to UCD Alumni, Staff, Admissions, Fees and Careers about taught and research graduate courses, in addition to the graduate entry medicine course at UCD.
Presentations from:
– Admissions (Fee's Applications), AIB
– Deloitte, Accenture & IBEC
– UCD Alumni – Career Journeys
When? 
Wednesday, 20 February 2019 from 4.30 – 7.00pm.
Where? 
The Graduate Open Day will take place in UCD O'Reilly Hall, Belfield, Dublin 4.
Who?
– Final-year undergraduate students who want to find out their options for graduate study.
– Professionals who wish to advance their career through an additional graduate qualification.
– Those who have graduated in one discipline but wish to take an intensive graduate conversion course in a new subject.
More information available at https://myucd.ucd.ie/events/index.do
View more events on Findacourse.ie