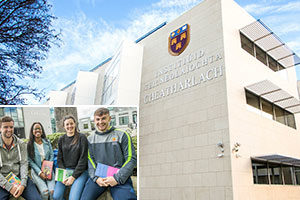 Location: IT Carlow
Time: 10 am - 2 pm
Join us on Saturday 7th May at the Carlow Campus for our Spring Open Day 2022 from 10am – 2pm, all CAO applicants and their parents/guardians are welcome.
IT Carlow have an extensive range of Honours degree, Ordinary degree and Certificate courses across Science, Engineering, Computing, Health, Business, and Humanities. Courses are offered at both Carlow and Wexford campuses. Prospective students will have an opportunity to meet with the academic staff and lecturers who will answer all course queries.
College Staff will be on hand to answer any questions regarding courses and career opportunities.
Admissions Office will also be available to answer questions about the application process, entry requirements and CAO points.
Students and their parents will have an opportunity to virtual tour the Institute's facilities.
View more events on Findacourse.ie