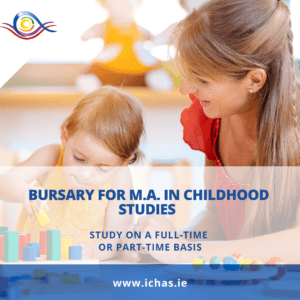 Offer Expiry Date:
Contact College
ICHAS are delighted to be offering a bursary  our M.A. in Childhood Studies.
Funding is being provided for the above award for 50% tuition fees.
This programme addresses the needs of practitioners and graduates who wish to develop their knowledge and professional competence in areas focusing on professionally supporting childhood development and should be of particular relevance to existing Level 8 graduates of programmes in areas such as Early Learning & Care; Primary & Post Primary Education, nursing, social care, psychology, sociology, social science, youth work and community studies and related disciplines.
How to apply:
Go to https://myichas.ie/newApplication/applyand apply on that link and one of our Admissions team will be in contact with you