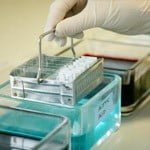 Stem cells will be manufactured for human use for the first time in Ireland following the recent licensing of a new facility in Galway by the Irish Medicines Board. The centre, which is one of only a handful of others in Europe authorised for stem cell production, aims to cultivate adult stem cells to treat conditions such as diabetes, arthritis and heart disease.
The centre has been developed by researchers at NUIG's regenerative medicine institute and was opened recently by Seán Sherlock, Minister for Research and Innovation. The Health Research Board and Science Foundation Ireland have recently approved funding for clinical trials on cells that be used to treat a condition known as critical limb ischemia.
The centre's director, Prof Tim O' Brien, said it would allow the team to take Prof Frank Barry's discoveries from the basic stem cell research programme at the Science Foundation Ireland-funded REMEDI, to the new clinic so that they may compete for grant funding under the Horizon 2020 programme of the EU.
O' Brien explained that in order to generate a sufficient amount, stem cells must be grown in laboratories and that the centre will help Ireland create therapies for a wide range of clinical problems which currently have no effective treatments. He said that the centre can only do clinical trials with authorisation from the IMB and that the licence to manufacture is obligatory for seeking permission for clinical trials.
Dr. Jim Browne, president of NUIG said that the new centre develops Galway's international reputation of being a centre for medical technology and John O'Dea, board member of the Irish Medical Devices Association, pointed to the money to be earned from regenerative medicine products which had a 40% sales growth last year and was valued at approximately €1.3 billion.
Regenerative medical therapies combines biology and engineering and 70% of pharmaceutical companies are currently working to develop them. NUIG estimates that over 1,900 cell therapy trials are currently taking place around the world.
Author:
Fiona McBennett