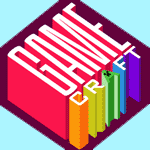 With so many computer programmers and graphic designers expressing interest and gaining employment in the field of electronic gaming, there is a huge appetite for events which offer information and collaboration possibilities in this area. GameCraft is one such event and returns this year after success in previous years.
What is GameCraft?
GameCraft is a games collaboration event designed around building the gaming community. The aim is to create events which allow game-makers to meet, share ideas, have fun, compete for prizes and most importantly make games!
The first Dublin GameCraft which took place in February of 2012 in DIT had over 120 attendees and produced more than 35 games. Since then Dublin GameCraft has gone from strength to strength with events in GamesFlá Thurles, in Belfast, and a charity GameCraft for ISPCA.
This years event takes part in St. John's Central College, Sawmill Street, Cork City on 22nd November. Sponsors for the event include Microsoft and the Evening Echo. The days breakdown is included below..
09:00 – 09.50 – Registration
09.50 – 10.00 – Intro and theme
10.00 – START
13:00 – Lunch
19:59 – STOP
20:00 – Start judging and playing games
21:00 – Judges deliberate (privately)
21:45 – Awards
22:00 – End and socialise
Anyone interested in attending this event can contact St. Johns Central College on 021 425 5500. The event webpage can also be viewed at https://www.gamecraft.it/events/cork-gamecraft-2014/